Nuove mappe gratuite per Sniper Elite 3 su console
505 e Rebellion espandono l'esperienza in MultiPlayer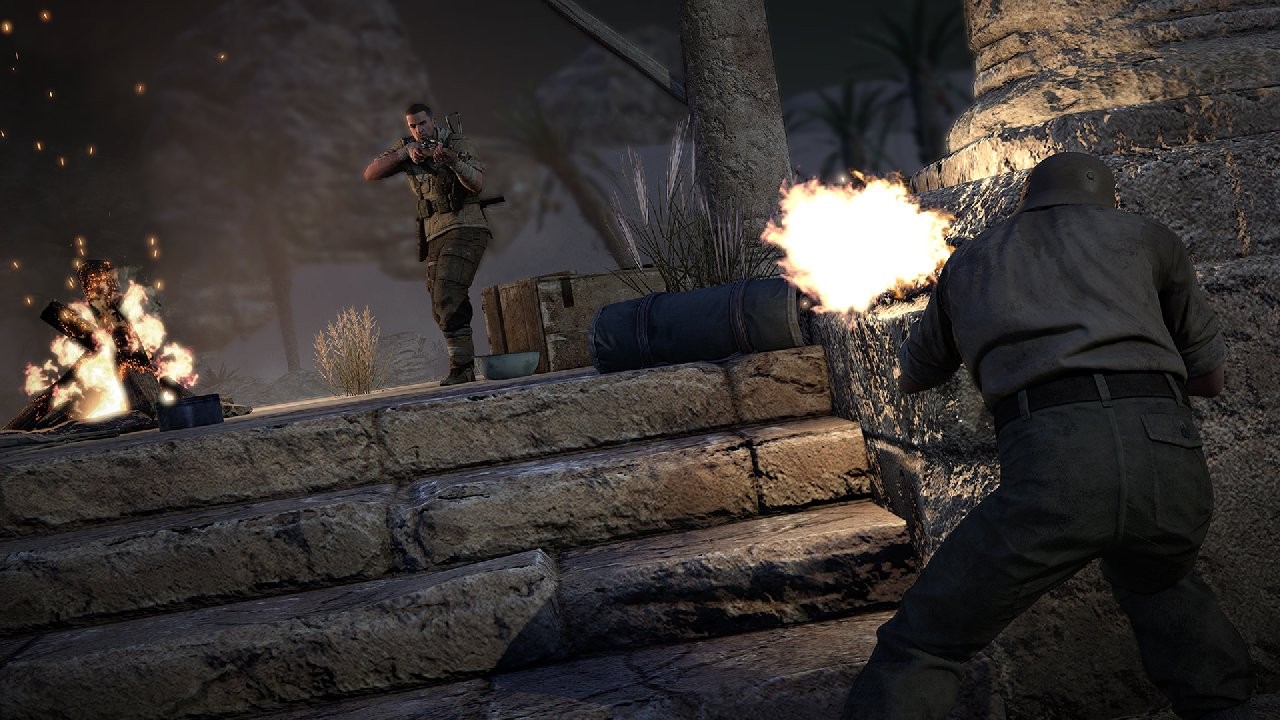 di
505 Games e Rebellion hanno annunciato che in concomitanza del secondo capitolo della campagna DLC Save Churchill di Sniper Elite 3 saranno rilasciate anche 3 nuove mappe gratuite per la modalità multiplayer, intitolate Airstrip, Lost Valley e Plantation. Queste mappe, così come il capitolo di Churchill, sono già disponibili su PS4 e PS3, arriveranno su Xbox 360 nella giornata di domani - 19 Settembre - e su Xbox One la prossima settimana. Inoltre, sono disponibili anche tre nuovi weapon pack: Sniper Rifle Pack, Axis Weapons Pack e the Eastern Front Pack.
A seguire il comunicato stampa ufficiale: per saperne di più sul gioco vi lasciamo alla nostra Recensione.
******
505 Games and Rebellion today announced the availability of three new free multiplayer maps for Sniper Elite 3 on Playstation 3 and Playstation 4, as well as the launch of Part 2 of the Save Churchill DLC Trilogy – Belly of the Beast. Sniper Elite 3 has hit number 1 in multiple countries and even months after release, 505 Games and Rebellion continue their commitment to satisfy fans through releasing new DLC, both free and paid.
The free maps and Belly of the Beast DLC will launch on Xbox One next week. Xbox 360 Belly of the Beast DLC will launch this Friday, with the free maps following on Sept 29th.
The three free multiplayer maps, Airstrip, Lost Valley and Plantation will offer players the chance to navigate thrilling and dangerous new terrains. All new Weapons Packs - Sniper Rifle Pack, Axis Weapons Pack and the Eastern Front Pack are also available to take full advantage of these exciting new multiplayer maps, and can also be used in all of the existing and future single player missions.
Save Churchill: Part 2 – Belly of the Beast takes place nestled high in the outlying mountains of North Morocco. A concealed Nazi facility straddles the steep canyon sides, mass-producing a new generation of experimental weapons, but the factory hides an even darker secret – the interrogation of Allied prisoners for intelligence on the movements of the Allied leaders in the run up to the Casablanca conference.
Behind it all stands Raubvogel – mastermind of the Schutzvollstrecker, a secret faction of the German military and would-be assassin of inspirational wartime leader Winston Churchill. OSS agent Karl Fairburne now must infiltrate the intricate maze of walkways and lofty factory interiors to destroy the weapons and reveal the plans behind a world-shattering assassination attempt.
Can he escape the belly of the beast for one final showdown?
The Save Churchill: Part 2 mission is available on PSN and Xbox Marketplace for €7.99 and is also part of the PS4/PS3 Season Pass which includes Hunt The Grey Wolf DLC, Hunter Weapons, Camo Weapons and Outfits Pack, Save Churchill: Part 1/2/3 along with Patriot Weapons, Axis Weapons, Eastern Front Weapons and Sniper Weapons Packs. The Season Pass is available on PSN Marketplace for €29.99. The new Sniper Rifle Pack, Axis Weapon Pack and Eastern Front Weapons Packs are €3.99 each.
Sniper Elite 3 is available at retail stores nationwide for Xbox One, the all-in-one games and entertainment system from Microsoft, Xbox 360 games and entertainment system from Microsoft, PlayStation4 and PlayStation3. The game is also available digitally via the Xbox Live online entertainment network from Microsoft for Xbox One, Xbox 360, and on the PlayStationNetwork for both PlayStation4 and PlayStation3. The PC version is self-published by Rebellion.